Activity :Customized Company Logo EmossingRidge Cap Roll Forming Machi
Mar 16, 2021
Customized Company Logo Emossing Machine for Clients from Malysia
This special embossing machine is designed to emboss Logos on scaffolding tubes for clients. It requires human assistance to insert tubes into the machine and then the machine can finish the embossing work automatically. Its rollers are driven by an electric motor. There is a simple switch on the machine and you can use it to turn on or turn off the machine.
Parameters:
Transmission motor power: 3.0kw
Roller Material: Cr12
Size of Tubes: 48.6 x 4.0mm
Drive mode: By gear
Roller stations: 3 stations (the first and third station rollers are support rollers, which also used as the feeding rollers of the tube. The second station rollers actGlazed Tile roofing sheet Making Machine as the emboss rollers, there are logo patterns on both the up and down rollers` surface).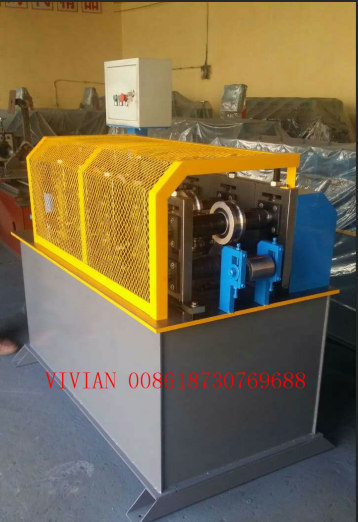 And you may also have a look at its LOGO effectL
If you happen to need a customized embossing machine , just call me or whatsapp me or email me directly. We do will offer you what you need.